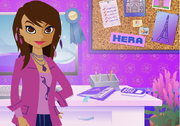 Favorite color: purple
Style: classic
Favorite Sports: running, track and field, weight lifting
In school she's: class president
Dream Guy is: mature and well rounded
Mantra: I can make a difference!
This trendsetter goddess is the queen of control, the countess of quick thinking, and the first lady of leadership. She plans perfect parties, organizes flawless fundraisers, and never misses the opportunity to make a difference.
Affectionately referred to as "HM" (high maintenance) and a neat freak, this lovable leader is captain of the debate team, class president, and yes, even editor of the school newspaper. Pretty as a peacock, this political princess likes to keep her plate full and her feet firmly planted. She's a social butterfly who has it all in perspective and totally under control.
She is Hera, hear her roar!