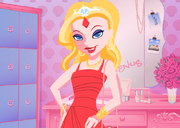 &nbsp
Favorite color: red
Style: trendy and super stylish
Favorite Sports: dance, gymnastics, cheerleading
In school she's: lead in the school play - or at least willing to try out for it
Dream Guy is: romantic
Mantra: Beauty begins on the inside!
The Dear Abby of goddesses, Venus dishes tips about beauty, boys, and staying ahead of the fashion trends with ease. She loves giving makeovers, making up new dance routines, and hosting sleepovers so her favorite girls can chat it up all night long. This blonde bombshell is also a matchmaker who is dead set on finding everyone true love, any way she knows how. Always super stylish on the outside, she knows that it's what's on the inside that really counts.To know Venus is to love her!